After three years of concerted advocacy from Disabled In Action, first with Mayor Bloombergís staff, and then with Matt Sapolin of the Mayorís Office for People with Disabilities (MOPD) and experts from Eastern Paralyzed Veteranís Association (EPVA, now known as United Spinal Association or USA), City Hall is more accessible to people with disabilities.
Ramp to City Hall Platform
Photo by Jean Ryan
We initially sought five changes:
A smooth path from the sidewalk on Park Row and also Broadway to the ramp leading into City Hall.

Signage directing people into City Hall after the guard entrance on the Park Row side.

A safe, ADA compliant ramp to the platform in front of City Hall (where news conferences are held).

Independent access through the door at the foot of the ramp leading into City Hall (i.e. a wider door with an automatic feature).

Truly accessible bathrooms in City Hall basement.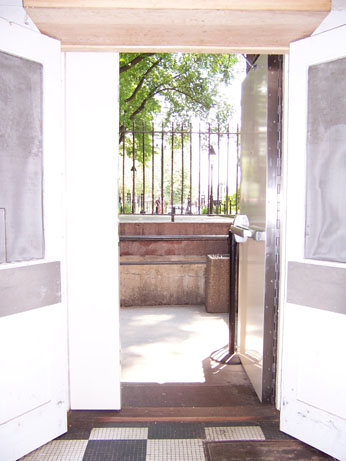 New Accessible City Hall Doors
Photo by Jean Ryan

More people with disabilities have been participating in Council activities than ever before, partly because of earlier changes in NYC council structure and the advent four years ago of full committee status for the council Committee on Disability (formally known as Mental Health, Mental Retardation, Alcoholism, Drug Abuse & Disability Services) headed by Margarita Lopez. Many issues which affect people with disabilities have come before the council such as accessible ferries, accessible taxis, Access-a-Ride, senior citizen rent increase exemption for people with disabilities (D-SCRIE), other housing concerns, and mental health issues. The advent of the Disabilities Network of New York City several years ago has also helped to create interest in disability policies and legislation, and the Independent Living Centers, especially CIDNY (Center for Independence of the Disabled in New York), have become involved in working for disability rights in legislation.

Now that some of the basic accessibility changes have been made to City Hall, we will be pushing for more changes such as a smooth and independently accessible entrance from the Broadway side of City Hall, ADA-compliant (i.e. safe and low) door saddles to offices and conference rooms, an accessible entrance to the dais in the City Council Hearing Room, and accessible access to the "porch" at the top of City Hall steps. These are not frills. They are necessary if we are to make sure that people with disabilities -- visitors, staff, and councilmembers alike -- participate fully in the governmental process.
Sign on women's restroom
Photo by Jean Ryan